2017 Midwest Gladiator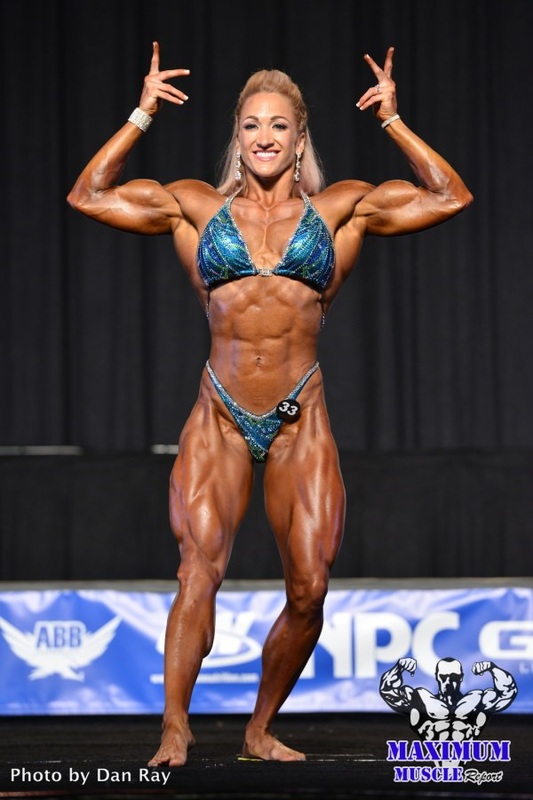 Bodybuilding, Figure, Bikini, Men's & Women's Physique
Expanded Height Classes in Bikini/Men's Physique
National Qualifier & New Novice Divisions

Saturday November 4th, 2017

Copernicus Foundation
(The Gateway Theatre)
5216 W. Lawrence Avenue, Chicago, IL

Pre Judging starts at 10:00 AM CST
Evening Show starts at 5:00 PM CST

Guest Poser, Lauren Quinn
2017 Jr. National Women's Physique Overall Winner

Awards
Awards for Most Muscular for Men In Bodybuilding
Most Symmetrical for Women In Physique
Or Bodybuilding Divisions Only

For Competitors – Coach Pass
Have your coach back stage helping you for pre-judging
and the night show. For $125.00, your coach gets
a pump room pass.

Competition Make Up & Hair Provider
Megan Melone, megan@meganmelone.com

No Weights Will Be Provided Bring your own bands.

To Book Competition Spray Tan or For Questions
E-mail michelle@usagyminc.com or call USA Gym at 708-598-3846

2017 Midwest Gladiator Ticket & Entry Form - Click to Download Below
2017 NPC Illinois Show Schedule Available Now
Get Your 2017 NPC Card Now
NPC memberships are valid for one calendar year, regardless of the date they are purchased within that year, so sign up early and get the most of your membership today. To learn more or to apply for a 2017 membership, visit the
NPC National site now
.
Two Ways to Join
Option 1 - Register Online and Print Your NPC Card Out
To Begin, Just Click The "Join The NPC" Banner Below

If you purchase your card online " you will not receive a hard copy" in the mail or an email copy. If you
did not
print out your card at the time of your transaction, you will have to go back into the site using your email address and password, click on log in, click on membership card and print out your card –
www.npcregistration.com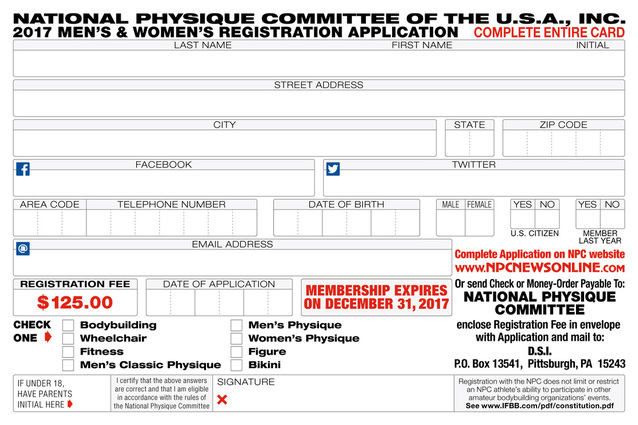 Option 2 - Print and Mail Your Application
To join the NPC by mail, print the application, complete it, enclose a check for $125.00 and mail to:
D.S.I.
P.O. Box 13541
Pittsburgh, Pa. 15243
NPC National Office
For more information, contact the National Physique Committee, P.O. Box 3711, Pittsburgh, Pennsylvania, 15230. Or call (412) 276-5027. Email:
NPCFirst@aol.com
For inquiries regarding NPC Card email us at
npcfirst@aol.com
---
NPC Announces New Men's Classic Physique Division
In all NPC Illinois shows that include this new class, if you do not make your weight according to your height requirement as specified by the NPC National office, your only other options will be to compete in the Men's Physique class or Men's Bodybuilding class, wearing the proper board shorts or suit for whichever class selected.
If you enter and pay to compete in an Illinois show in this new class, and you do not meet the weight/height requirements at final check in, there will be no refunds for your entry fee and you will need to select one of the alternative classes.
Read more and get all the details about this new division, including height/weight requirements at the
NPC National site
.
From The Chairman
Get to know your NPC Illinois Chairman, Chuck Sanow and read his thoughts about competing at the national level. Visit the updated "
From The Chairman
" page now.
Promoting the Sport of Bodybuilding, Fitness, Figure and Bikini In Illinois